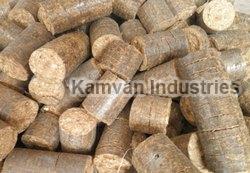 With the increasing rates of pollution and global warming, the utilisation of more eco-friendly fuel alternatives became extremely necessary. When it comes to the matter of selecting a more eco-friendly option of fuel, nothing can be more fruitful than biomass briquettes. Biomass briquettes can be an extraordinary solution for supplanting the fossil fuels like coal, diesel, petrol, CNG and lignite.
The utilisation of Biomass briquettes is becoming deliberately famous due to its noteworthy capabilities of generating less pollution while being used in pellet machines and thermal plants. With the notable uprise of pollution threats, every industry should use these biomass briquettes for saving our mother nature from being deteriorated. The utilisation of these biomass briquettes have innumerable advantages but before that let's talk about the primary idea of biomass briquettes.
What are Biomass Briquettes?
Also recognised as white coal, biomass briquettes are non-polluting and biodegradable sources of energy that are utilised in the replacement of classic fuels like coal, gas and petroleum oils. Biomass briquettes are considered a more convenient, an economical and eco-friendly option of energy in comparison with the traditional sources of energy because of their renewable nature.
Biomass briquettes generally have bulk consistency and high specific consistency when compared to loose biomass. Being one of the non-conventional sources of energy, biomass briquettes are getting famous day by day for their extraordinary benefits. Below are some of the most considerable benefits of biomass briquettes that can surely make you astonished.
Benefits of Biomass Briquettes
As we discussed earlier biomass briquettes are extremely beneficial when it's the topic of producing less pollution. Below are some of the points that can perfectly describe the effectiveness of these biomass briquettes.
Less Pollution
When we are discussing the merits of biomass briquettes, how can we not mention the most prominent beneficial feature of biomass briquettes which is none other than their incredible ability to produce less pollution? Briquettes are a remarkable fuel option that is globally recognised because they generate less pollution while burning. Not only do they produce less pollution but they also are more sterile than traditional fuels like coal.
The main reason behind the extraordinary capabilities of biomass briquettes in producing less pollution is none other than the absence of sulphur in them. This is why biomass briquettes produce less pollution while burning. biomass briquettes are also famous for producing less dust pollution in comparison to loose biomass.
More Economical
The next advantageous feature of biomass briquettes is they are more inexpensive rather than conventional fuels like coal. Made with biodegradable wastes, biomass briquettes are available at a very cheap rate. Most biomass briquette suppliers in India offer these biomass briquettes at a very reasonable rate.
No Waste
Most conventional fuels like coal or related products often produce ash and dust after being burned completely. But when you're using biomass briquettes, there is no chance of any waste products.
Uniform Burning
The next efficient feature of biomass briquettes is their burning procedure. When compared to the other traditional sources of fuels like coal, biomass briquettes burn in a uniform method because they are more volatile.
Renewable Source of Energy
biomass briquettes are made with biodegradable waste. This is why there is no chance of any shortage. They can be easily renewable and can be made continuously as per demands. Being one of the best renewable sources of energy, biomass briquettes are getting popular in various industries.
Nature-friendly
The most important aspect of biomass briquettes is their nature-friendly properties. Due to the incredible capacity for producing less pollution, biomass briquettes are completely harmless to nature. You can get these biomass briquettes at any reputable biomass briquettes suppliers in Rajasthan.